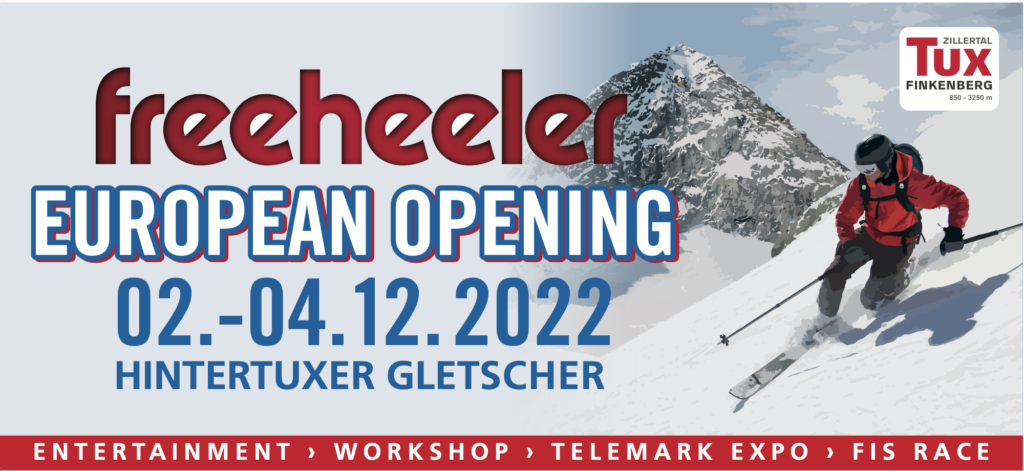 After a two year Corona brake the Telemark season will start again at the Hintertuxer Glacier in Austria with an extensive offer.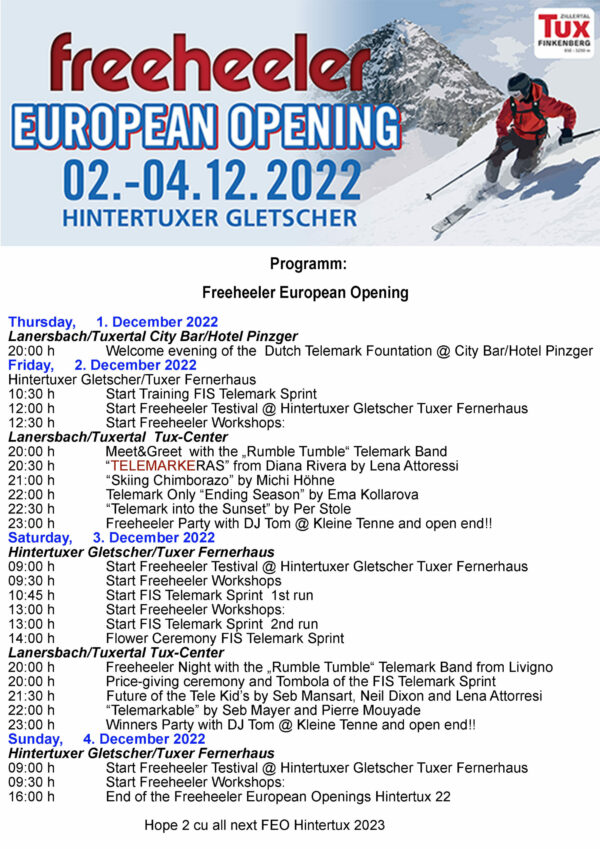 On snow Hintertuxer Gletscher
Freeheeler Area at Tuxer Fernerhaus.
Wide selection of workshops
Standart-Workshops
Beginner
Advanced
Professional
Special Workshops
Freestyle (jumps, fun park and more)
Lurk (forget your ski poles and use the lurk pole)
Technical (optimize your technique)
Offpiste (make it fun in the backcountry)
TelemarKids Project 3 houres Kid's 4 fun with Lena
Equipment Test Expo of all important Telemark brands
The following brands or products are available to test:
Bindings: Inwild Meidjo 3, 22 Designs Lynx and Outlow X, Bishop, Rottefella Freeride and Freedom, Kreuzspitze, 7tm Telebuddy plates
Skis: Fjell Skis, Blizzard, Völkl, Scott, Unique Skis, Rip'n Wud, Whitelandski
Testival Tour partner: Contour skins
FEO Hintertux 22 Dealer partner: telemark-shop
International FIS Telemark Sprint Race
After Snow Lanersbach-Tux Center/Tuxertal
Get 2 gether Program: Meet & Greet with the
Livigno Band "Rumble Tumble and with Bob Mazarei at the Bass guitar", and Fun, Fun, Fun!
Super Packages with skipass offers for all days:
Book your event package or "workshop only" here: https://freeheeler.eu/freeheeler-packages/
You can also book the package with a workshop, please indicate which workshop you prefer when booking.
You can choose from these workshops, which take 2,5 houres.
Download here the exel file with all bookabele workshops:
The beginner, advanced and professional workshops are carried out by qualified telemark instructors from:
Standart-Workshops (by Telemark Austria and Freeheeler Guides)
Beginner
Advanced
Professional
Special Workshops
Richard Schürf and the Freeheeler Team
Ski Resort & Tourismus Partner